Remodelling is a great idea to add more value to one's home. But remodelling a house and keeping it in good condition involves high costs. Thanks to the easy availability of loans, individuals need not wait to save enough funds to be able to remodel their houses. Lending institutions nowadays offer instant personal loans for home improvement, also known as home renovation loans.
A home renovation loan helps individuals renovate, repair, or upgrade their homes without depleting their finances. Continue reading to understand these loans, eligibility, and processing.
What is a Home Renovation Loan?
A home renovation loan is a personal loan to finance home repair/renovation/improvement of an existing property, transforming it into a comfortable living space. It is an easy-to-avail unsecured loan with easy eligibility criteria. The sanctioned amount can be used for remodelling, interior change, painting, internal and external repairs, flooring and even construction work in a residential building. Renovation loans are included in most financial institutions' product lists. The loan amount can be repaid in affordable EMIs during the loan tenure.
Who is eligible to take a home improvement loan?
Individuals meeting the following eligibility criteria can apply for a home renovation loan and manage urgent home repairs or renovation comfortably.
Indian citizens aged between 21 and 60 can apply for a home renovation loan.
A good credit score with spotless credit history is required.
The applicant's income, residing in Delhi or Mumbai, should be Rs.25,000 per month. For non-metro areas, it is Rs.20,000 per month.
Self-employed persons should produce income proof for a minimum annual profit after tax, depending on the industry type.
To check their affordability, most loan applicants use a personal loan EMI calculator available on the websites of leading financial institutions to determine the EMI they can pay conveniently before applying.
Why do individuals prefer a home improvement loan?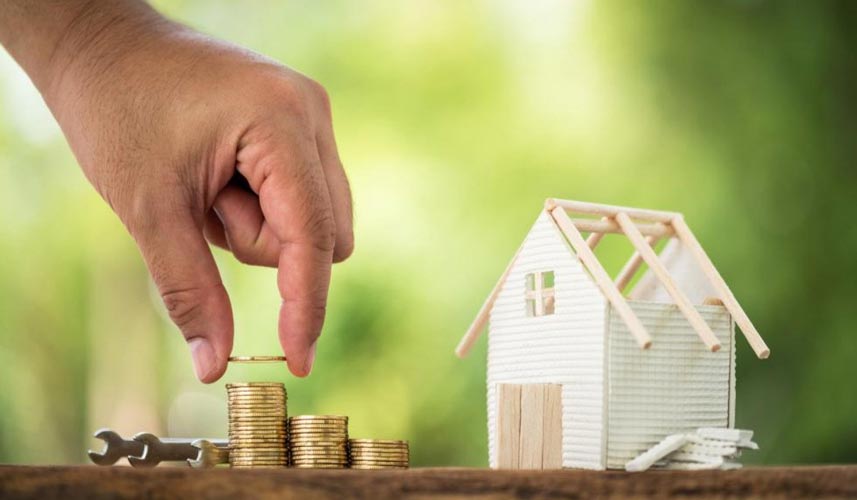 1. Instant Online Approval
Renowned lending institutions allow loan-seekers to apply online loan applications. Individuals can check their eligibility and upload the required documents online to initiate the loan process. Usually, there is an instant loan approval after a successful verification process.
2. Easy Documentation
Loan applicants do not need to provide physical documents to the lender. They can upload the required documents while filling out the online loan application. Loan applicants need to apply for a personal loan with the following documents:
PAN (Permanent Account Number) card
Identity proof
Address proof
Previous six months' bank statement
Salary slips and Income Tax Returns (ITR)/Form 16 for salaried individuals
ITR and business financial documents of the previous two years
Business registration proof
Income tax clearance certificate and others
3. Maximum Loan up to 90% of Renovation Estimate
The loan amount can be up to Rs. 25 lakhs with reputed lenders. Borrowers can apply for an adequate amount and get a sanctioned loan as per their eligibility. The better an individual meets the loan eligibility, the higher the loan amount can be sanctioned. The loan can cover up to 90% of home renovation costs.
4. Flexible Repayment Tenure
Personal loans for home renovation are flexible in terms of repayment tenure. Customers can apply for a home renovation loan with a tenure of up to 60 months and pay the EMIs accordingly without burdening their budget.
5. Competitive Interest Rate
The interest rate on home renovation loans is competitive. With renowned NBFCs, it starts from as low as 11.99%. The interest rate is offered based on the applicant's credit history, loan amount, loan tenure, and other factors.
6. Tax Benefits
Borrowers can avail of a maximum deduction of Rs. 2 lakhs under section 24, Income Tax Act, India. It is an exemption applicable to the interest amount payable against a home renovation loan.
How to apply for the right loan amount?
Individuals need to determine their home renovation cost first. It can be painting, upgrading furniture, replacing damaged fittings, maintaining pipes and tanks, flooring, etc. Assign an amount to each task that needs to be done for the home renovation and apply only for the required loan amount.
Applying for the required amount is considered wise instead of an unnecessarily high loan amount. Taking more than the required amount will increase the loan EMI and may burden the finances. If the borrower increases the loan tenure to decrease the loan EMI, it may result in high loan costs due to higher interest costs in the long term. Loan applicants can utilise a personal loan EMI calculator to calculate a suitable EMI and choose the loan tenure accordingly.
Conclusion
Apply for a home renovation loan online by fulfilling the loan eligibility terms and documentation. Plan a loan repayment effectively using an EMI loan calculator available on reputed lenders' websites and manage timely repayment.
Read More: How to Check Genuineness and Credibility of Packers and Movers